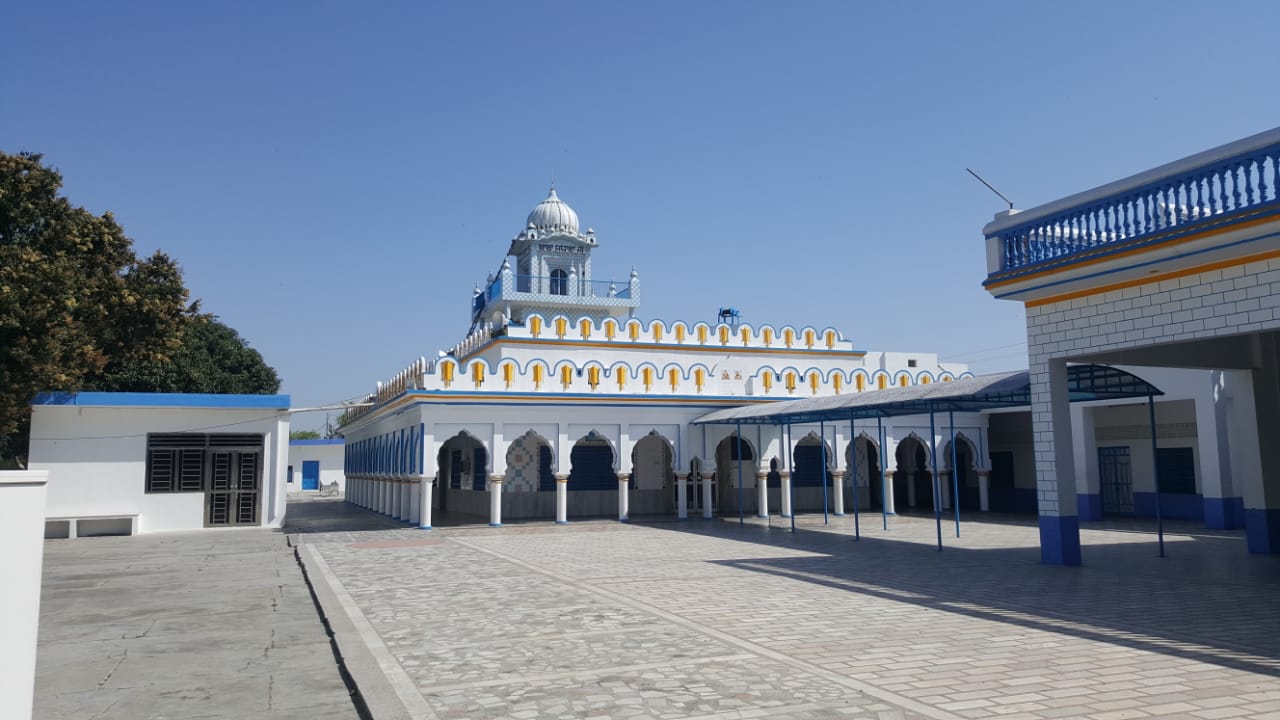 Gurdwara Baba Sidhana Ji
Sahota Got Jathere
Eastern Side Ring Road, VPO: Barapind
Distt: Jalandhar Punjab India – 144418
Phone: 98157-83257 (Gurmukh Singh)
Gurdwara Baba Sidhana Ji is situated on eastern side ring road. Maghi Mela on 13 January and Harh Mela on 15 June celebrated every year. Sahota Got Jathere mela is celebrated on 14th day of Indian Chetar Month by sangat of village Tehang among the other villagers sahota families.
A new Nishan Sahib was built at Gurdwara Baba Sidhna ji.
Barapind Sunday 14-05-2017 (Boota Singh) a new Nishan Sahib has been setup at Gurdwara Baba Sidhna ji. On 14th May, 2017, on the occasion of Sangrand, a new cloth (chola) was put on a new Nishan Sahib. There is no support given to this Nishan Sahib.
There is a machenical system equipped with a single face, 2 horse power, electric motor for downstream and upstream Nishan Sahib. It takes about an hour to get rid of the new cloth and lift it up.
This Nishan Sahib has been developed by Ishwar Engineering Company, Rurka Khurd. According to Surjit Singh, the owner of Ishwar Engineering Company, the height of the new Nishan Sahib has been kept 83 feet from the ground floor along with the khanda. Jindal company's pipes have been used for this purpose. The height of the khanda is 4.5 feet.
For the first time, the Chola of the Nishan Sahib was brought by the Ishwar Engineering Company.
According to the organisers, Rs.195,000 has been given to Ishwar Engineering Company for the preparation of this Nishan Sahib. Boring work has been given Rs 25,000. For the construction of the cast, the work has been given as 31200, for paint Rs.1000 and for bricks 5400 rupees.
There is still a work to complete the tile for Nishan Sahib foundation.
The donors have contributed nearly 450,000 rupees for this work.
Management Committee:
Chairman: Bhupinder Singh Canada, President: Gurmukh Singh, Secretary: Davinder Sood, Treasurer: Sukhjinder Singh, Members: Mohan Singh Canada, Boota Singh, Jakshinder Singh Razada, Granthi Singh: Gurdev Singh